Robs Stupid Buggy Page
This is Robs Stupid Buggy Page. It is Stupid.
Apr 01,2010 I have been fulfilling my gocart jones with the lawnmower and generic gocarts and 4 wheelers lately, but recently found the need to have a 2 seater buggy for some trail riding. Some friends that we go riding with have Polaris Rangers, and Yamaha Rhinos, and it is really handy to be able to carry cargo on the trail rides. We have been bringing the 4 wheelers, which are more fun than the Rangers, but would be better if we could carry our own cooler instead of relying on other people to carry our stuff. I thought briefly about buying a Ranger, but they are silly expensive, have small tires, underpowered, and fragile. I guess Ill have to make my own!
The plan is to make a buggy similar in size to a Polaris Ranger, but with larger tires, better suspension, a bigger motor to turn the tires, and less wimpy parts in between
After much research, I decided to make a buggy like the first lawnmower, but with suspension and geared differently to have a higher top speed. Putting the motor under the seat like the Rangers make for better weight distribution and shorter wheelbase. Using a typical car motor would prevent the motor from fitting under the seat, but a boxer type motor would fit sideways and be shorter to fit much better.
Volkswagon motors are plentiful and cheap, but are really old technology, being air cooled, pushrods, point type ignition, and carbureted. Subaru motors are similar shape, but are liquid cooled, overhead cams, electronic ignition, and fuel injected. Sounds like a plan to me.
A Subaru motor is quite oversized for a buggy. I thought briefly about using a goldwing motor, but the lack of reverse and manual gearbox was a deal breaker.
Putting a 4WD Subaru motor in the rear in a conventional way would be kinda cool, but the transmission would stick out the rear quite a ways, would make connecting power to the front wheels quite tricky, and would have way too tall gearing for a low speed offroad cruising buggy. I plan on using a 2WD Subaru drivetrain, putting the motor in sideways and further forward for better weight distribution and channeling the power through a differential to get better gearing and additional torque.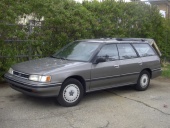 Found another car that wants to be a buggy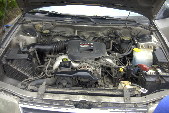 90 Subaru Legacy with fuel injection, and 4 speed automatic overdrive
Robs Stupid Progress Report Pages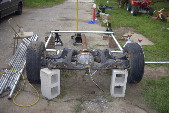 Progress in May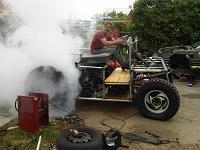 Progress in June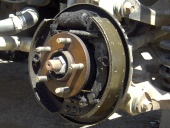 Progress in July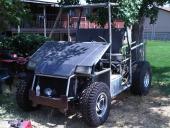 Progress in August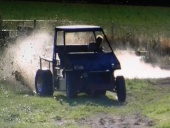 Progress in September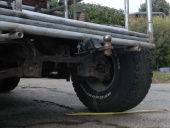 Progress in October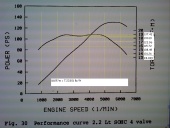 Some Stupid Calculations
Tell me how stupid my buggy is
See the 100hp lawnmower I built
See the other carts I have built